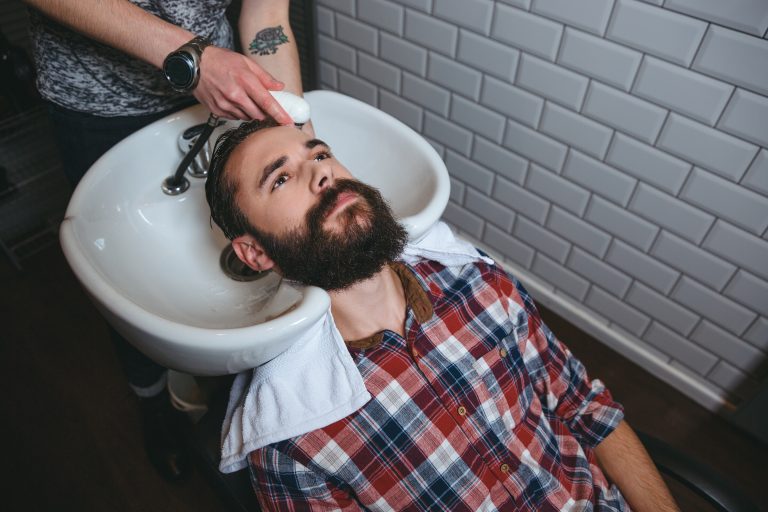 Just like skincare for men, haircare should not be difficult. Follow these 7 tips to keep looking your best.
1. Use a Natural, Gentle Shampoo
Not all shampoos are created equal. It is best to avoid shampoos with a long list of ingredients that you can't pronounce. Natural Shampoos are best. It is best to look for ingredients that strengthen your hair and promote thickness. Be on the lookout for hydrolyzed wheat protein, amino acids, and vitamin E, these are A+ ingredients.
2. Don't Shampoo Every Day 
A lot of guys get in the habit of using shampoo every day. They assume that they should be washing their hair every time they hop in the shower.
Guys, that's not good! Shampooing everyday can really dry out the hair. Instead try shampooing every other day. Obviously if adjust this depending on the hair type and level of activity.  
3. Don't Forget Conditioner 
Sorry Guys, but washing your hair isn't a one step process. You need to be using conditioner to get your hair looking the best. Natural conditioners that are for men are the best.
Conditioner is a different from shampoo, instead of washing away the gunk and build-up conditioner will encourage your hair and scalp. Get that hair moisturized and get a healthy shine.
4. Visit Your Barber Regularly
Guys, it's time to make it a priority. That includes making regularly trips to the barbershop. Go every 2-3 weeks for the best style. It also depends on your haircut. If you've got a short cut, you will need to go more often than guys with longer hair.
5. Choose a Hairstyle Fits Your Face
Not all hairstyles are created equal. And not all guys will look the same, even with the same haircut.
Think of the shape of your face. Do some research on the hairstyles that may look good on you. You don't need to only use these recommendations thou; you want to be comfortable and confident!
6. Be Gentle with Your Hair
Guys there is no need to be rough and tough on your head!  Your hair will look much better if you treat it gently.
Drying: Don't attack your hair with a towel, aggressively rubbing and pulling at it. Instead, take a gentle approach. Rub your hair lightly to dry it after a shower.
Styling: Comb or brush with a smooth movement. Don't yank or pull at your hair. It's bad for your scalp and can lead to thinning.
7. Use Natural Styling Products 
Gels and waxes can contain strong chemicals that dry and damage your hair. You don't want the thick and crunchy look that some products leave you with. Choose a natural styling product instead – like natural wax pomade work the best.
Smart Haircare
A good grooming routine for men should go beyond your face. You should always treat and style your properly in order to look your best. But that is easier said than done somedays. Make it easy by following these 7 tips.